Xpress Garage Door Spring Repair Ontario
is Your 24 Hours Fast Garage Door Repair Service
Call 24/7 at (519)- 489-2331 or
(866) 350-4614.
Authorized Clopay & Liftmaster Garage Doors & Openers
Xpress Locksmith and Door Repair with over 15 years experience in the industry, we will have your new Garage Door beautifully installed or have your current garage door fixed as new. We specialize in garage door maintenance, repairs and installation. Our skills include servicing and repairing a garage doors properly, repairing and maintaining the garage door in view of not having to come back for some time. We have the proper tools and skills to fix/replace garage door springs, tension springs and torsion springs. Wood/Steel cracks, hinges, cables, roller/wheels, pulleys, bearings and all types of motor mechanical and electronic problems for garage doors and gate motors. We have agents all over GTA ONTARIO to bring you cost effective service and quality.
At Xpress Locksmith and Doors, you are not working with a company, but with people. The founder and director Andre Low will personally work with you, helping you with everything you need to have a beautiful and perfectly working garage door. We will assist you with technical issues, from garage sizes to choosing the right door to compliment your home. We are so confident in our products and services that we offer the only 12 month guarantee on our workmanship and 12 month guarantee on the product. We ask no deposit and have a turn around time of 2 – 5 working days of installation your new product and 24 – 48 hour turn around time on repairs.
We fit and supply top quality meranti and grandis sectional wooden garage doors panel and horizontal, we will make a garage door that will compliment your home beautifully. All of the above garage doors are available in single ( 2440 X 2100 ), double ( 4880 X 2100 ), and caravan size ( 2440 / 4880 X 2400 – 2700 ) , and special size doors can be manufactured and installed on request . Xpress Locksmith and Door Repair also supply the full hardware kit by a local supplier ( Hydro garage doors) for all the above doors to ensure professional, BEST quality and a long lasting installation. Kindly click on products and services to view our wide variety of TOP QUALITY products. Ranging from Remotes, motors, spares and hardware and beautiful garage doors.
We specialize in the following motors:
WE SERVICE ALL MAKES of DOOR & OPENERS
CLOPAY GENIE PRO STANLEY LIFTMASTER CHAMBERLAIN SEARS OVERHEAD AMARR WAYNE DALTON WINDSOR
Your Garage Door needs us !!!
Your hard working Garage Door should be tuned-up at every year to keep it running longer and smoother and to avoid expensive repairs. Xpress garage door spring Repair is a moving mechanical system, the largest moving system in your home. Therefore it requires professional attention and maintenance. Over time your garage door can easily get out of alignment. Sometimes when your garage door won't open, it is an even simpler explanation. You may need to reprogram your remote or replace the battery. Call us for obligation free help and support, we can help you diagnose your garage door problem in no time. Or email us at xpresslocksmith@hotmail.com, We pride our selves in having your email request, enquiry, problem log , technical support or email of any nature responded to with in 30-60 minutes, 24 hours a day, 7 days a week.
Broken springs will be obvious, and the most telltale sign is limited power and speed in opening and closing the garage door. If the motor does not respond at all after replacing the remote battery and trying the manual switch, it is most likely a problem with the actual garage door opener motor unit, which might require replacement R2500.00 – R3500.00
Xpress Garage Door Spring Repair, is unique in every way and we pride at making your garage door problem our problem. Don't let a futile problem like a Garage Door add to every day stress.
We are also very proud to announce that we are growing at a rapid pace and are able to place teams even nearer to you! Trading and servicing 7 days a week at hours to suit your personal needs, Our professional and friendly services is just around the corner from you.
We repair garage doors, garage door springs, garage motors in the following areas :
*TERMS AND CODITIONS APPLY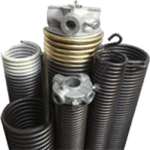 We repair garage doors, garage door springs, Garage Door Repair Guelph, garage motors & remotes in Guelph ON. Garage Door Repairs, Garage Door Springs repair Guelph , Garage Door Remotes & Motors in Guelph.
We repair garage doors, garage door springs in Kitchener ON, garage motors in Kitchener ON. Garage Door Repair Kitchener, Garage Door Springs repair Kitchener, Garage Door Remotes & Motors Kitchener.
We repair garage doors, garage door springs repair Waterloo ON, garage motors in Waterloo ON. Garage Door Repair Waterloo ON, Waterloo Garage Door Springs repair, Garage Door Remotes & Motors Waterloo ON.
We repair garage doors, garage door springs repair Cambridge ON, garage motors Cambridge ON. Garage Door Repair Cambridge, Cambridge Garage Door Springs Repair, Garage Door Remotes & Motors in Cambridge ON.
Authorized Clopay & Liftmaster Garage Doors & Openers
Xpress Garage Door has the fullest diversity of garage door spring repair products and services capable in providing you great services of spring door repair in the GTA area AND Waterloo/Kitchener, Guelph, Cambridge Ontario and all surrounding area.
Do you have an old home? It goes without saying that an old home is going to come with an old garage door- One that may be outdated when it comes to the latest in garage door parts and safety systems. Xpress Garage Door Springs is prepared to help you fix any broken garage door parts you may have. Making sure all of your garage door parts are in working order if imperative to the safety of your family.
Xpress Garage Door Spring Replacement We offer professional installation of a lot of important garage door parts and systems. If you need additional wireless remotes for your garage door opener, we can help you with that; if the photoelectric eyes that help keep your garage door from turning into a death trap need maintenance or replacement, we can handle that for you too! We are ready to assist with any garage door service or garage door repair you may need. Fixing your garage door and all its parts can be a daunting task, let Xpress Garage Door Springs do it for you.
One of the most important parts of your garage door are the garage door springs. Rarely do people realize how important the springs are in keeping your garage door running properly. The springs are the part of the door that help balance the weight of the garage as it opens and closes. They have to balance a lot of weight, and because of this the springs can get worn out or stretched. It is important not to try and fix your garage door springs on your own, doing it wrong can be potentially fatal, make sure to call Xpress Garage Door Springs to come out and fix the springs for you.
Our garage door parts and services include:
***    Wireless Remotes
***    External Entrapment Systems
***    Photoelectric Eyes
***    Open Indication Monitors
And more.
Contact Xpress Garage Door Springs immediately for emergency and non emergency garage door parts, parts installation, and repair- Call us now at (866) 350 – 4614 for an estimate.
Xpress Garage Door engineers are extremely expert in of handling all major types, kinds and leading brands of garage door spring repair hardware and systems available in the market at a very affordable price. We even service those brands that we do not sell! So if you want and need the best garage door spring repair service you can found in your area, you can always count on us!
Call us at 1-866-350-4614
 
Xpress Garage Door Spring Repair has the best team of technicians in town to provide you with the highest quality of garage door spring repair services at absolutely reasonable price. Our round the clock, whole year round availability and fast emergency response makes us the most efficient garage door spring repair company in Ontario area to ensure you all your garage door spring repair needs will be fix in no time.
Call us at 1-866-350-4614
Depend on us for all of your garage door spring repair services needs. Xpress Garage Door guarantees high quality, fast and efficient work with all our services. Call us now at 1-866-350-4614! Our experts will provide you free consultation as well as estimate on your required services.