Xpress Locksmith Provide A Lock Re-keying Service In Waterloo/Kitchener Protect Your Business With Our Re-Keying Services in Waterloo/Kitchener Call 24/7  (519) 489-2331 Fast Service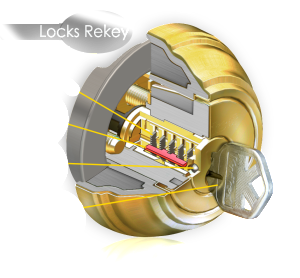 If you're concerned that unauthorized persons might have access to your business, call Locksmith Waterloo and have us re-key your lock system. We also offer master keying for customers interested in a more complete level of commercial lock protection.
What is Re-Keying?
Essentially, re-keying changes the locks in your commercial space so they can only be operated by new keys. If possible, our professionals will rekey your lock cylinders to save you the money and hassle of full lock replacement.
You may want to consider getting your business re-keyed if you've…
– Recently fired or lost an employee
– Given spare keys to a maintenance crew, contractors, etc.
– Recently moved into a previously-occupied business space
Master keying, another popular locksmith service offered to our customers, is a more complex method of re-keying. In a master key system, each lock is keyed differently (some can be keyed the same, if you want certain keys to open more than one door) with one master key created to open all doors.
Call Our Licensed Locksmiths for Full Business Security in Waterloo.
Need your locks changed to prevent unauthorized entrance to your place of business? Interested in our Locksmith service? For full commercial protection, call Waterloo Locksmith today at (866) 820-1331. We'll take the time to understand your needs and offer only the best security solutions for you and your business!